Courtesy: Dawn News/AFP
A Dutch court on Monday sentenced former Pakistan international cricketer Khalid Latif to 12 years in prison for urging the murder of anti-Islam MP Geert Wilders.
Latif, 37, had offered 21,000 euros ($22,500) for the head of Wilders in an online video after the firebrand lawmaker sought to arrange a competition for cartoons of the Prophet Mohammed (PBUH).
"It was not a stretch to think that somebody around the world would have taken heed of the call to kill Mr Wilders," presiding judge G. Verbeek told the court.
"The accused knew this and his call fuelled the fire to have Wilders killed," he said.
Geert Wilders
@geertwilderspvv
Rutte en minister
moeten de Pakistaanse autoriteiten onder stevige druk zetten mee te werken aan de arrestatie en uitlevering van deze nu veroordeelde crimineel anders ontloopt hij alsnog zijn straf. En nog belangrijker dan deze criminele Pakistaanse cricketspeler:
vervolg nu ook de twee grote vissen die de afgelopen jaren verschillende fatwa's en doodvonnissen over me uitspraken: mullah Jalali
en Saad Hussain #Rizvi!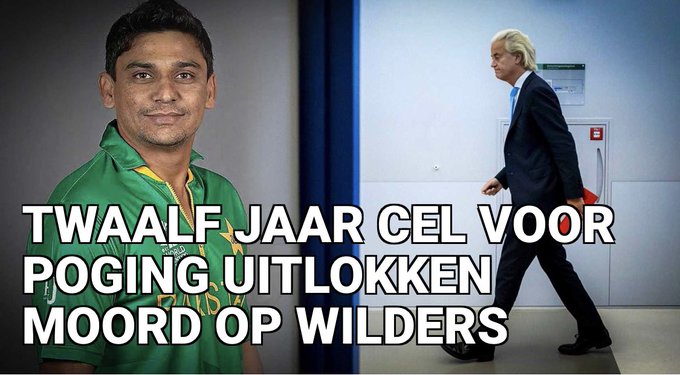 It is extremely unlikely that Latif, who was convicted in absentia, will serve his sentence. Dutch authorities have sought in vain to question Latif over the case and requested legal assistance from Pakistan, also to no avail.
Wilders cancelled the cartoon contest after protests broke out in Pakistan and he was inundated with death threats. He has been under 24-hour state protection since 2004.
In the Netherlands, the plan to stage the contest was criticised widely with politicians, local media and ordinary citizens slamming the idea as needlessly antagonising Muslims.
But the call to kill Wilders appeared to resonate in the real world, with a Pakistani man sentenced to 10 years in prison in 2019 for plotting his assassination in the wake of the cancelled contest.
Judge Verbeek said Latif's video was not just an attack on Wilders personally, but also on the concept of free speech in the Netherlands.
Latif played five one-day internationals and 13 T20 internationals for Pakistan but was banned from cricket for five years in 2017 for spot-fixing in a Pakistan Super League match in Dubai.
His last Pakistan appearance was against the West Indies in Abu Dhabi in September 2016.
However, Verbeek said that Latif had benefitted from his fame as an international cricketer to "add oil to the fire" at a time when the Netherlands was already the target of several threats.