Courtesy: Dawn News/AFP
The Nobel Peace Prize was awarded on Friday to imprisoned women's rights campaigner Narges Mohammadi, honoured for her fight against the oppression of women in Iran.
Mohammadi was honoured "for her fight against the oppression of women in Iran and her fight to promote human rights and freedom for all", said Berit Reiss-Andersen, the head of the Norwegian Nobel Committee in Oslo.
2023
#NobelPeacePrize
laureate Narges Mohammadi's brave struggle has come with tremendous personal costs. The Iranian regime has arrested her 13 times, convicted her five times, and sentenced her to a total of 31 years in prison and 154 lashes. Mohammadi is still in prison.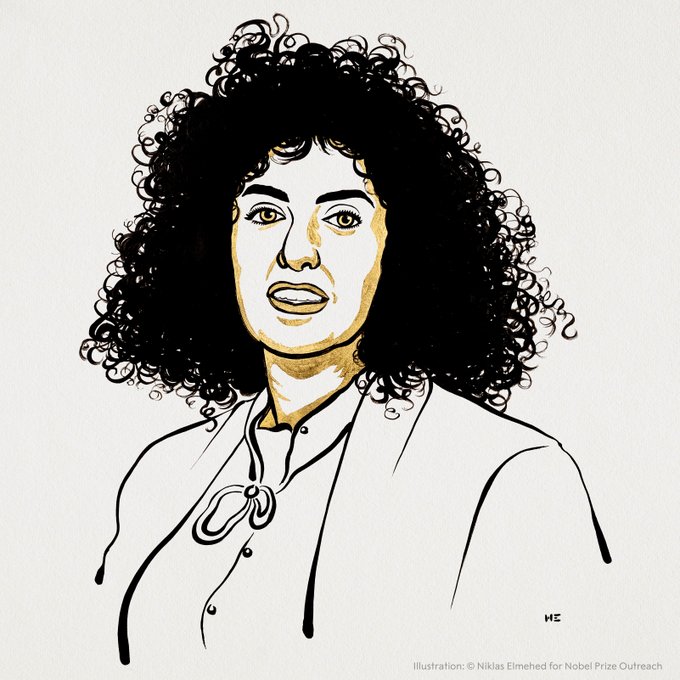 The Nobel Prize
@NobelPrize
As a young physics student Mohammadi distinguished herself as an advocate for equality and women's rights. In 2011 she was arrested for the first time and sentenced to many years of imprisonment for her efforts to assist incarcerated activists and their families.
After her release on bail, this year's peace laureate Mohammadi immersed herself in a campaign against use of the death penalty. Her activism against the death penalty led to her re-arrest in 2015, and to a sentence of additional years behind walls.
The Nobel Prize
@NobelPrize
Last year's wave of protests became known to the political prisoners held inside the notorious Evin prison in Tehran. From captivity, 2023
#NobelPeacePrize
laureate Mohammadi has helped to ensure that the protests have not ebbed out.
Mohammadi has spent much of the past two decades in and out of jail for her campaign against the mandatory hijab for women and the death penalty.
She is the vice-president of the Defenders of Human Rights Centre founded by Iranian human rights lawyer Shirin Ebadi, herself a Nobel Peace Prize laureate in 2003.
The committee hoped Iran would release her so she could attend the prize ceremony in December.
"If the Iranian authorities make the right decision, they will release her. So she can be present to receive this honour, which is what we primarily hope for," Reiss-Andersen said.
"Her brave struggle has come with tremendous personal costs. Altogether, the regime has arrested her 13 times, convicted her five times, and sentenced her to a total of 31 years in prison and 154 lashes," she added.
The Nobel Prize
@NobelPrize
In September 2022, Mahsa Jina Amini was killed in Iranian morality police's custody, triggering political demonstrations against Iran's regime. The motto adopted by the demonstrators – "Woman – Life – Freedom" – suitably expresses the dedication and work of Narges Mohammadi.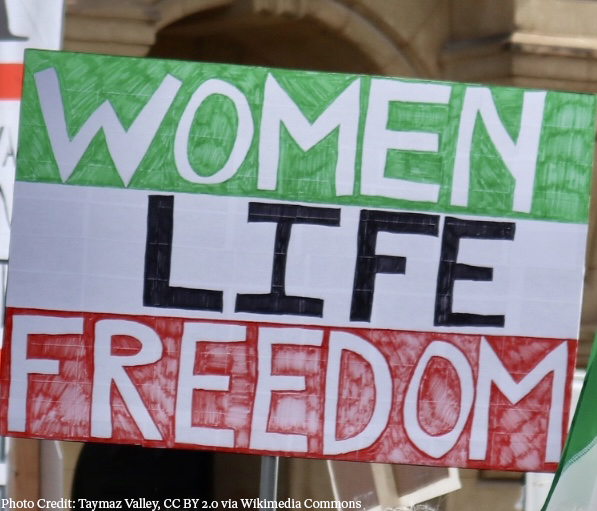 The award "really highlights the courage and determination of the women of Iran and how they are an inspiration to the world", UN human rights office spokeswoman Elizabeth Throssell told reporters in Geneva.
Last year, against the backdrop of the war in Ukraine, the prize went to a symbolic trio opposed to the war — Russian human rights group Memorial, Ukraine's Center for Civil Liberties and jailed Belarusian rights advocate Ales Bialiatski.
The prize comes with a gold medal, a diploma and a prize sum of 11 million Swedish kronor (about $1m).
The award will be presented at a formal ceremony in Oslo on December 10, the anniversary of the 1896 death of the prizes' creator, Swedish inventor and philanthropist Alfred Nobel.
The Peace Prize is the only Nobel awarded in Oslo, with the other disciplines announced in Stockholm.
On Thursday, Norwegian playwright Jon Fosse, whose plays are among the most widely staged of any contemporary playwright in the world, won the Nobel Prize in Literature. The Nobel season winds up on Monday with the Nobel economics prize.
Mohammadi has not seen her children for eight years, has spent most of her recent life in prison and acknowledges there is no immediate prospect of release.
Yet still, she insists her struggle is worthwhile, saying the protest movement that erupted one year ago in Iran against the Islamic republic is still alive.
First arrested 22 years ago, Mohammadi, 51, has spent much of the past two decades in and out of jail over her unstinting campaigning for human rights in Iran. She has most recently been incarcerated since November 2021.
The activist "is the most determined person I know", her husband Taghi Rahmani, who has been a refugee in France since 2012 with their two children, twins now aged 17, told AFP.
"She has three causes in her life — respect for human rights, her feminist commitment and justice for all the crimes that have been committed," said Rahmani.
While she could only witness from behind bars the protests that broke out following the death on Sept 16, 2022 of Mahsa Amini — who had been arrested for violating Iran's strict dress rules for women — she says the movement made clear the levels of dissatisfaction in society.
"The government was not able to break the protests of the people of Iran," she told AFP in September in written answers from Tehran's Evin prison where she is held, describing the protest wave as "irreversible."
'Heart that breaks'

Iranian women's rights campaigner Narges Mohammadi is seen at her home in Tehran on Sept 4, 2001. — AFP
Mohammadi told AFP in September she was currently serving a combined sentence of 10 years and nine months in prison, had also been sentenced to 154 lashes and had five cases against her linked to her activities in jail alone.
"I have almost no prospect of freedom," she said.
Amnesty International describes her as a prisoner of conscience who has been arbitrarily detained.
Mohammadi has missed much of the childhood of her twin children, Kiana and Ali, as well as the pain of being apart from her husband Rahmani. "In 24 years of marriage, we had just five or six years of living together!" he said.
As well as not seeing the children for eight years, restrictions placed by the prison on her telephone calls mean she has not even heard their voices for more than a year and a half.
"My most incurable and indescribable suffering is the longing to be with my children, from whose lives I departed when they were eight," she told AFP.
"The price of the struggle is not only torture and prison, it is a heart that breaks with every regret and a pain that strikes to the marrow of your bones."
But she added: "I believe that as long as democracy, equality and freedom have not been achieved, we must continue to fight and sacrifice."
Voice of the voiceless
Born in 1972 in Zanjan, in the northwest of Iran, Mohammadi studied physics before becoming an engineer. But she then launched a new career in journalism, working for newspapers that were at the time part of the reformist movement.
In the 2000s, she joined the Center for Human Rights Defenders, founded by Shirin Ebadi, fighting in particular for the abolition of the death penalty.
"Narges had the possibility of leaving the country but she always refused… She became the voice of the voiceless.
"Even in prison, she does not forget her duties and provides information about the situation of the prisoners," said Reza Moini, an Iranian human rights activist based in Paris who knows her well.
In her book White Torture, Mohammadi denounced prisoners' conditions of detention, in particular the use of solitary confinement, which she says she herself also suffered.
Regular updates about the situation in prison are posted on her Instagram account run by her family.
Mohammadi and fellow inmates during the anniversary of Mahsa Amini's death staged a symbolic protest in the yard of Evin by burning their headscarves.
1- Header image: A handout photo provided by the Narges Mohammadi Foundation on October 2, 2023 shows an undated, unlocated photo of Iranian rights campaigner Narges Mohammadi. — AFP