By Pervez Saleem
UNICEF USA
UNICEF Bangladesh
International Labor Organization
US Department Of Labor
Video: YouTube
Stop Child Labor
بچوں سے مُشقت بند کرو
बाल मजदूरी रोकें
Child labor is the exploitation of children who are deprived of their childhood by work that prevents them from attending school or causes physical, mental, or social harm. Children are especially vulnerable to injuries in their early developmental years, even though physical and mental health problems may not be evident for years.
About 160 million children around the world are engaged in child labor, working in jobs that deprive them of their childhood, interfere with schooling, or harm their mental, physical, or social development. Nearly half of them — 79 million children — work under hazardous conditions. By definition, child labor is a violation of both child protection and rights.
Family poverty and ill-equipped schools are two major reasons children in low-income countries are in the labor force. However, it isn't confined to low-income countries. To some degree, it's a problem in all countries: More than half of all child laborers live in middle-income countries.
What are the worst forms of child labor?
The ILO's Convention No. 182 defines hazardous and morally damaging forms of labor and calls for their immediate and total elimination. Worldwide, the ILO estimates that 22,000 child laborers are killed at work each year. As defined by the convention, the worst forms of this include:
Slavery or similar practices
Child trafficking
Forced recruitment into armed conflict
Prostitution and pornography
Drug production and trafficking or other illegal acts
Debt bondage
Child labour in Pakistan is the employment of children to work in Pakistan, which causes them mental, physical, moral and social harm. Child labour takes away the education from children.[1] The Human Rights Commission of Pakistan estimated that in the 1990s, 11 million children were working in the country, half of whom were under age ten. In 1996, the median age for a child entering the work force was seven, down from eight in 1994. It was estimated that one quarter of the country's work force was made up of children. Child labor stands out as a significant issue in Pakistan, primarily driven by poverty. The prevalence of poverty in the country has compelled children to engage in labor, as it has become necessary for their families to meet their desired household income level, enabling them to afford basic necessities like butter and bread.
About 3.3 million of Pakistani children are trapped in child labor, depriving them of their childhood, their health and education, and condemning them to a life of poverty and want. It was estimated that almost a quarter of women aged 20-49 were married before the age of 15, and 31% before eighteen years of age.
Children in Pakistan are vulnerable to many forms of violence (physical, psychological, sexual) and exploitation, including economic exploitation and child trafficking.
For children working at brick kilns in Punjab, a survey was conducted by the Punjab Labour Department. According to the latest figures of the survey, the department identified 10,347 brick kilns in Punjab and a total of 126,779 children were seen at these sites. Out of the total, the survey identified that 32,727 children were not attending schools. For the school-going children, a total of 71,373 children were enrolled in public schools, of whom 41,017 were males and 30,356 were females. A total of 13,125 children were attending private schools; 7,438 were males and 5,687 were females. As many as 9,554 children were enrolled in non-formal education institutes
Child Labor in India
India sadly is home to the largest number of child labourers in the world. A growing phenomenon is children being used as domestic workers in urban areas. The conditions in which children work are completely unregulated and they are often made to work without food, with very low wages, resembling slavery. There are cases of physical, sexual and emotional abuse of child domestic workers. A Ministry of Labour notification has made child domestic work as well as employment of children in dhabas, tea stalls and restaurants "hazardous" occupations.
31 million children are part of India's workforce, the highest number in the world. A minute analysis of the available child labour data reveals that a greater number of children in the age group of 5–14 years are engaged in agricultural labour in rural India.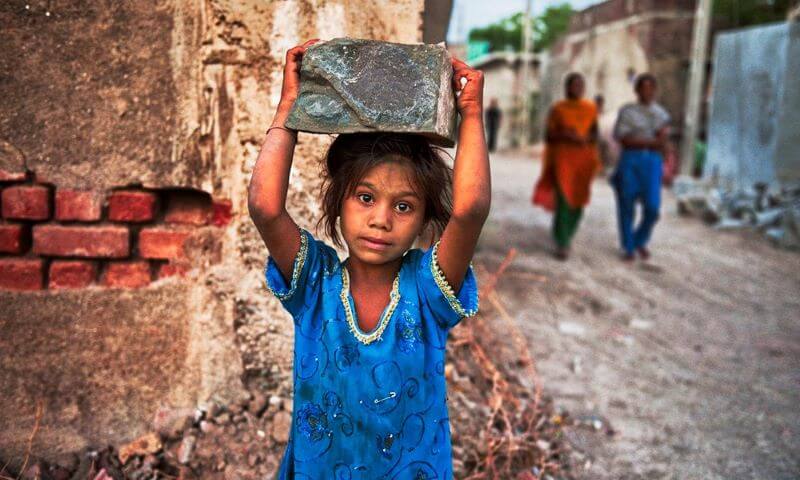 For much of human history and across different cultures, children less than 18 years old have contributed to family welfare in a variety of ways. UNICEF suggests that poverty is the biggest cause of child labor. The report also notes that in rural and impoverished parts of developing and undeveloped parts of the world, children have no real and meaningful alternative. Schools and also teachers are unavailable. Child labor is the unnatural result. A BBC report, similarly, concludes poverty and inadequate public education infrastructure are some of the causes of child labor in India.
Between boys and girls, UNICEF finds girls are two times more likely to be out of school and working in a domestic role. Parents with limited resources, claims UNICEF, have to choose whose school costs and fees they can afford when a school is available. Educating girls tends to be a lower priority across the world, including India. Girls are also harassed or bullied at schools, sidelined by prejudice or poor curricula, according to UNICEF. Solely by virtue of their gender, therefore, many girls are kept from school or drop out, then provide child labour.
The international labor organisation (ILO) and Spreading Smiles Through Education Organisation (OSSE) suggests poverty is the greatest single force driving children into the workplace. Income from a child's work is felt to be crucial for his/her own survival or for that of the household. For some families, income from their children's labour is between 25 and 40% of the household income.
Child Labor in Bangladesh
The Bangladesh Bureau of Statistics published the provisional report of the "National Child Labor Survey 2022" on 19 July 2023. The 2022 survey finds that Bangladesh has 39.96 million children (51.79% boys and 48.21% girls) aged five to 17 years. Among these 4.4 percent (1,776,097) are engaged in child labour, 60.14 percent (1,068,212) of whom are engaged in hazardous child labour.
In 2022, Bangladesh made minimal advancement in efforts to eliminate the worst forms of child labor. The Department of Inspections for Factories and Establishments rescued 3,990 children from working in various hazardous sectors. Furthermore, the government added five additional sectors to the hazardous work list (dried fish production; informal steel-based work; brick and stone production, collection, and carrying; tailoring and informal production of garments; and waste management), officially prohibiting children from working in these jobs. The Bangladesh government also launched its first national study on human trafficking. The study will help provide a baseline understanding of the human trafficking situation in the country, including how human trafficking crimes are committed and how victims are targeted.
Child Labor in Nepal
In Nepal, there are over 1 million children engaged in child labor. A UNICEF report carried out in 2021, estimates 17,000 of Nepal's child laborers are working in brick factories. 1 in 10 of the workers in brick factories are children. Some are as young as 5 years old.
The government published data from the 2018 Nepal Labor Force Survey, which estimated that 1.1 million children are engaged in child labor. Additionally, the Ministry of Women, Children, and Senior Citizens approved the Online Child Protection Procedure, 2021, to help curb online abuse of children.
Though child labor is declining almost at the rate of 100,000 every year, Nepal still accounts for 1.1 million children between (5-17 years) in child labor. Of these 222,493 are estimated to be engaged in hazardous work. Agriculture sector accounts for more than 85% of the total child labor in Nepal.
Brick factories in Southern Nepal
Rauhatat in Southern Nepal has the largest number of brick factories in the country, and this is where our pilot project to End Child Labor has begun. 89% of children engaged in child labor in Nepal do not attend school. Working from dawn to dusk, 7 days a week, these child laborers are the families bread winners. They work in dangerous conditions and forgo school in order to ensure their families can afford food.
Causes of child labor in Nepal
It's easy to blame the families. To feel they are the crux of where the exploitation begins. In reality, child labor is fueled by corruption and poverty and accompanied by a horrendous class system that keeps the poorest in society trapped in a vicious cycle. Without their children's salaries, these families would starve. The Dalit/Untouchables castes have lived generation after generation, being shunned from society. Unable to even drink from the same wells as others, they are rejected and ostracised. Each generation was refused education and had to work from a young age. For many of these now parents, they are unaware that child labor is illegal. And they see no route out of the cycle.
The US Department of Labor has added some textile products from India, Bangladesh and Pakistan in its list of foreign-made goods it has reason to believe are produced by child and or by forced labor that violate international standards.
It is worth noting the cotton from Uzbekistan has been removed from the list. This would pave way for free export of Uzbek cotton to Pakistan and Bangladesh. In fact the Pakistani spinners must move quickly to book cotton from the central Asian country before others move in.
The items added in the list include garments from Bangladesh on suspected forced labor. Ghana's name has been included under forced labor in bovines, textiles, and rice. India is suspected of using forced labor in tea and thread & yarn production. Pakistan's name is included on baked goods, bovines, dairy products, electronics, furniture, garments, rice, and textiles under suspension of child labor.